Murder Trial Opens of 4 BORN Members; Other Convicts Claim Ties to Kremlin
7 years
The trial opens again today, December 1, in the Moscow Regional Court of four participants in a violent ultranationalist group called "Battle Organization of Russian Nationalists" (BORN).  Two others already convicted for the group's crimes testifying at this trial have claimed its members were tied to the Kremlin, Radio Svoboda, the Russian Service of RFE/RL and Russia media have reported.
BORN has taken responsibility for a number of murders and assaults, including the murders in 2009 of lawyer Stanislav Markelov and journalist Anastasiya Baburova. Two BORN members, Nikita Tikhonov and his common-law wife Yevgeniya Khasis, are already serving 18-year prison sentences for that crime, grani.ru reported.

Ilya Goryachev, leader of the Russkiy Obraz [Russian Image] group who is said to be the "ideological inspiration" for BORN, and is himself in custody, is also expected to give testimony in the current trial.

The four suspects are Vyacheslav Isayev, Maskim Baklagin, Mikhail Volkov, and Yury Tikhomirov. They are charged with murder, attempted murder, murder motivated by political, ideological, ethnic or religious reasons, unlawful possession of a weapon, organization of an extremist group, and "banditism" for their involvement in the murders of Fyodor Filatov, Ilya Dzhaparidze and Ivan Khotorsky, leaders of the anti-fascist movement in Russia; Muslim Abdullayev, a Thai boxing world champion and a judge, Eduard Chuvashov.

Mikhail Volkov. Photo by Aleksei Nichukin/RIA Novosti


Isayev has admitted his guilt fully and expressed remorse; Baklagin and Volkov do not deny involvement in the murders but say they were not members of BORN nor motivated by ethnic hatred. Tikhomirov has pleaded not guilty.
Vyacheslav Isayev. Photo by Gennady Gulyayev/Kommersant.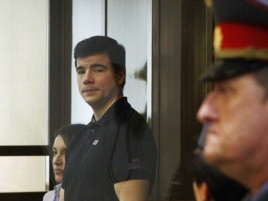 Nikita Tikhonov

Tikhonov, already serving an 18-year sentence, gave testimony in the trial of the four about the series of murders, and for the first time admitted publicly he was an organizer of BORN since the fall of 2007, says Svoboda. He said that Ilya Goryachev was the link between the ultranationalists and an official named Leonid Valeryevich Simunin, who led Mestnye [Locals], a youth movement organized by the Kremlin.
According to Novaya Gazeta, Tikhonov testified of the link said to exist between Goryachev and the presidential administration:


In the fall of 2007, Ilya Goryachev told me that he had friends in the government, including in the Administration of the president, and proposed committing crimes in the framework of the interests of his acquaintances -- for example, to attack the political opposition: the NBP [National Bolshevik Party], Garri Kasparov's activists, and organizations allied with him. For that, these powerful acquaintances of Goryachev's could help me on the other crime [the case of the murder of the anti-fascist Ryukhin] for which I was wanted. At that time I refused, replying that the natsbols [Nationalist Bolsheviks] weren't my enemies.



Goryachev (L) and Simunin (R). Photo via Novaya Gazeta.


Goryachev then pointed out the lawyer Markelov, said he was creating a leftist party which would advocate amnesty for illegal migrants and combatting homophobia, and was going to bring in antifascist activists. He said that "if something happened to him" these acquaintances of his would be very grateful.

Simunin was said to serve as first deputy to then-head of the presidential administration, Vladislav Surkov, long believed to be the architect and manipulator of nationalist and ultranationalist groups within Russia as well as Ukraine and other neighboring republics. Col. Igor Strelkov, the former commander of the Russian-backed separatists of the "Donetsk People's Republic" (DPR) is also now giving accounts to the media about Surkov's involvement there.

Russian blogger Roman Popkov discovered that Simunin is now working for the Ministry of Energy and was proposed as an advisor to the DPR in that capacity. An account of his position is on the Facebook page of a separatist supporter, Boris Borisov. He recalls how Simunin cooperated with the authorities to jail members of a rival group, the National Bolshevik Party led by Eduard Limonov, who had attacked him and his comrades.

Another blogger, Aleks Dar, has long followed Simunin's career, going back to 2005 when he led Mestnye in Lyubertsy, a suburb of Moscow. He believes he was part of a government effort to channel the nationalists who were appearing in the "Russian Marches" and fighting against migrants in Moscow, into pro-Putin activities.
Leonid Simunin. Photo via Roman Popkov.


Yevgeniya Khasis has claimed that Gorachev and Simunin decided who was to be targeted by BORN, and Tikhonov took care of the "technical coordination" of the attack, Svoboda reports.

Yevgeniya Khasis. Photo by Mediazona.


According to Khasis, Russkiy Obraz was supposed to be the "legitimate political organization" and BORN was supposed to be the muscle behind it -- something like Sinn Fein and the IRA, Mediazona reported about the court session where she testified.

When questioned about BORN's financing, she said the following in court, Mediazona reported (translation by The Interpreter):


I know that, from the money sent for youth policy, Simunin allocated some to Goryachev for the nationalist organization. I don't know for sure if Surkov knew about all that. But I do know that Leonid Simunin, who was Surkov's representative, said a phrase like 'I consulted with the leadership,' 'the leadership didn't recommend it.' I knew this either from Tikhonov's statements or Goryachev's.



As the Riga-based Russian news site Meduza reported in dramatic coverage of the trial headlined "I Was His Woman, I Kept the Machine Gun Under My Pillow," while Tikhonov was vague about Goryachev's Kremlin connection in his statements, Khasis was more detailed:
It was Vladislav Surkov then who instilled the manual control of civil society. And the middleman linking Goryachev was Leonid Simunin. They were to be mixed up in future crimes.

Khasis, who was used by wardens to harass Pussy Riot's Nadezhda Tolokonnikova when she was in the same prison, also testified that another lawyer to be targeted by BORN was Vadim Klyugvant, the attorney for Mikhail Khodorkovsky, Lenta.ru reported.

Russian independent journalists have long been investigating the claims of the possible connections between the youth groups engineered by the Kremlin's "grey cardinal" Surkov and violent extremists, but they have not come up with any definitive connections.

Journalist and human rights advocate Zoya Svetova has researched the case and published materials for RFE/RL, commented about the trial (translation by The Interpreter):


We will likely find out how reliable these testimonies are only in the event that the court summons the 'Kremlin' people. When I wrote about Goryachev's case, I met with Leonid Simunin. He said he was acquainted with Goryachev, but he never worked in the presidential administration. If we are to believe Simunin, he said they had only a business relationship. Then we sent an inquiry to the presidential administration and there they said: Simunin never was an employee.
Khasis says in her testimonies that Surkov was connected with the Nazi organizations, with BORN, that he supposedly could have provided them some financial aid. She also names Vasily Yakimenko, and Tikhonov names him as well. But the problem is that neither Tikhonov nor Khasis communicated either with Surkov or with Yakimenko. Tikhonov only communicated with Simunin, and they know this only from Ilya Goryachev's statements.
My version of the story is as follows: it is quite likely that Goryachev had relations with the presidential administration. I think he was acquainted with Nikita Ivanov, who at that time was a deputy to Surkov and in fact was responsible for youth policy. For some reason, neither Khasis nor Tikhonov name him. I think, however that Ivanov is that person who was directly tied to Goryachev. I don't know to what extent they knew in the presidential administration that they were planning and committing murders. But I think another point is very important: such organizations as BORN could not exist without supervision on the part of the FSB. Of course the FSB was informed about what was going on. I think that there was dual curating her on the part of the FSB and on the part of the presidential administration.


"Curating" is a word Russians use to mean the management or manipulation of people by intelligence agencies for state purposes.

Tikhonov and Khasis could be giving such testimony to improve their conditions in prison, says Svetova, who met with Tikhonov in prison. He is not likely to get his sentence reduced, but he could be moved into more bearable conditions; the prison where he is located now is so cold there are icicles in the cells, she says.

It's not clear how testimony against a sitting official like Surkov would be desirable such as to benefit a prisoner -- unless the Kremlin was bent on ridding itself of Surkov or his deputies for their own reasons. Strelkov has been making allegations about Surkov for some months, and it doesn't seem to have impacted on Surkov's position in the Kremlin. Goryachev may also speak in court about the Kremlin connections, although his lawyer says his client has no connection to the murders.
The story is complicated by the fact that Goryachev gave testimony against Tikhonov for the murder of Markelov, then withdrew his testimony and wound up being extradited from Serbia, where he was living at the time, and becoming a defendant himself in a separate trial which is to take place no earlier than next spring. Goryachev has declined to name names so far although he has hinted that he had some connections to the presidential administration.

Svetova has cautioned against drawing conclusions with such contradictory testimony, and has also noted that the defendants could have been tortured while in custody and such statements extracted from them. Still, she doesn't think the claims are totally unfounded:


Of course what astounds us the most about this case is how the organization existed under the nose of the law-enforcement agencies! I am certain that the FSB knew about this organization and it is quite likely that someone in the presidential administration knew as well that these people could be involved in sensational murders, and this organization existed for such a long time, and continued to murder people with total impunity. It was only a miracle they were caught. It is largely, of course, to the credit of Stanislav Markelov's brother, who was a deputy of the State Duma, that Tikhonov and Khasis were caught. It is astounding when you read the materials of the case, how cold-bloodedly they prepared those murders, and how they killed them.

I wonder what the jury's verdict will be. The very fact that they couldn't put together the jury after several tries says how significant the case is: people were afraid of being members of the jury on that case. I think that if the jury declares them guilty, or if only one of them does not declare them guilty, then most likely the jury's verdict can be guessed already: it will be guilty. We must hope that all the people complicit in these murders are brought to court. I am certain that some day we will learn whether there were people in the presidential administration who knew and didn't stop these murders. But the times must change, and the government must change, that it will become known.

-- Catherine A. Fitzpatrick