Pro-European Parties Gain Slim Edge Over Pro-Russians in Parliamentary Elections in Moldova
6 years
"Russia Has Lost Moldova," says the headline this morning at gazeta.ru
as parliamentary elections in Moldova this past Sunday appeared to give a slight edge for pro-European parties.

Yet with the pro-Russian Socialist Party gaining the most votes with 21.4%, the victory is tempered, and some "tough bargaining is expected," said RFE/RL.

With 89%  of the votes counted, three pro-Western parties have about 44%, and the opposition about 39%, says the BBC.

According to latest results, the three pro-European parties are set to have 57-58 seats in Moldova's 101-seat parliament, while the two pro-Russian opposition parties are expected to hold 43-44 seats, reports say.

Liberal Democrat leader Vlad Filat, whose party leads the pro-European coalition, had the following warning, said Euronews:

"It is necessary to arrange a post-electoral deal and to act very quickly, being conscious that even after the elections pressure against Moldova will continue. It will consist of economic pressure , media pressure, meant to derail our country's European path."

The developments in Moldova's parliament will be watched closely, as it is widely feared that it will be the next arena for Russian meddling.
German Chancellor Angela Merkel said at the G20 meeting last month that Russia may move to destabilize Moldova next, after Georgia and Ukraine. 
Yet the pro-Russian forces did not seem to be totally under Moscow's control. Gazeta.ru blamed a "split inside the pro-Russian forces" for the relatively poor showing, although noting that "the gap between advocates of rapprochement with Russia and apologists for Euro-integration was minimal."

Vladimir Voronin's Communist Party lost more than half of its voters; if four years ago the communists attracted more than 44%, today they could barely muster 20%. After communist rule from 2001-2009, their ratings have tumbled.
Younger voters who were still pro-Russian were drawn to the Socialist Party and to another pro-Russian party, Patria, banned the day before the elections. They have criticized Voronin's unfulfilled promises and called for the Russian language to be given official status and for Moldova to join the Russian-Belarusian Union.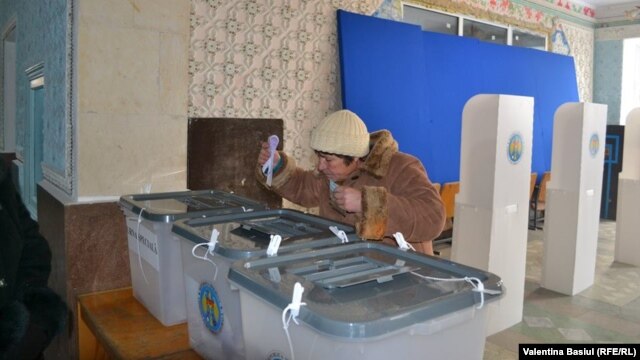 Photo by Valentina Basiul for RFE/RL.
Election turnout was about 56%.

The Socialist Party dominated, with 21% of the vote, and the Communist Party garnered nearly 18%. The pro-EU Liberal Democrats gained 19%, the Democrats had 16% and the Liberals 9%.

The pro-EU parties are aiming for EU candidate status by 2017 and full membership by 2020.
With such close numbers between the blocs, the three pro-Western parties will have to negotiate with the pro-Russian socialists led by Igor Dodon, a former Communist Party member who served in Voronin's administration, but who left the party to form his own.

On the eve of the elections, the pro-Russian party Patria was banned, a fact criticized by Russia. The Central Elections Commission (CEC) asked an appellate court to overturn Patria's registration on November 26.
Patria, headed by a Russian businessman, Renato Usaty, had been registered only in September 2014, and was denounced by the Moldovan government as a "Russian project." Usaty ran a campaign focusing on corruption and oligarchs in Moldova, bringing in popular Russian performers.
While he was later banned from Latvia, popular entertainer Iosif Kobzon appeared in Moldova.
Usaty was accused by the CEC of receiving 436,000 euros for his campaign and his registration was cancelled by the court on November 27; by that time he had fled back to Russia.
Moldovan police also raided several pro-Russian NGOs, detaining five who they claimed were planning disorders after the elections, and confiscating pistols, grenade launchers and cash.

Opposition parties also accused the Moldovan government of interfering with voting of Moldovan residents in Russia; 700,000 people, primarily in Russia, were eligible to vote in the Moldovan parliamentary elections, a figure that was disputed by the government, which said there were only 300,000 Moldovans working abroad. The Central Bank estimated 700,000 -- based on remittances -- and the head of a Moldovan agency for relations with the diaspora put it at 650,000, including 300,000 in Russia, RFE/RL reported.



Dolls for sale in the marketplace in Chisinau. Photo: BBC.

Residents in the Russian-backed separatist region of Transnistria, where there are 300,000 Moldovan citizens, 20,000 of whom have dual Russian citizenship, did not take part in the ballot. There are also 150,000 citizens of Russia and 100,000 citizens of Ukraine in Transnistria (including many with dual or even triple citizenship).

Russian President Vladimir Putin met personally with the leaders of the Socialist Party, which called for Moldova to join the Russian-led Eurasian Customs Union. Dmitry Rogozin, the hardline deputy prime minister in charge of defense, also forged close ties between his party, Rodina [Motherland] and Patria, the banned party.

Patria members traveled to the Donbass last month as observers during the unrecognized elections in the self-proclaimed "Donetsk and Lugansk People's Republics."

Gazeta.ru says Moldovan society is "split" regarding their geopolitical choices: according to a November poll by the Russian Institute for State Policy, 39% of Moldovans would vote for membership in the EU and 43% would vote for membership in the Eurasian Customs Union. Those Moldovans voting for closer ties to Russia are unhappy with the results of the pro-European governments who they believe have failed to make reforms in justice and privatization and to combat corruption.

Russian Foreign Ministry Sergei Lavrov helped along the split before the elections, saying that the Transnistria region would have the right to decide its own fate if Moldova dropped its "non-bloc" status and opted for a path to the EU.
Moldovan leaders have accused Russia of fostering ethnic minorities' secessionist movements, including the Gagauz, Ukrainians and Bulgars in order to divide Moldova. Igor Formuzal, leader of Gagauzia, conducted a referendum in February about joining the Eurasian Customs Union which was not recognized by Chisinau.

-- Catherine A. Fitzpatrick