National Guardsmen Mutiny And Protest In Kiev
5 years
Over three hundred Ukrainian National Guardsmen have mutinied and are protesting outside the presidential administration in Kiev. They are demanding that they be discharged from service as their tours finished six months ago and they are receiving inadequate remuneration and support.
ZN.ua reports, translated by The Interpreter:
According a ZN.ua source in the National Guard leadership, 350 soldiers at the Novi Petrivtsi National Guard base outside Kiev have mutinied and set out on foot for the capital.

The column made its way to the presidential administration, chanting slogans against Petro Poroshenko.

According to the source, the guardsmen had demanded for the past four days that they be paid the salaries that they have long not received. 

The guardsmen also demanded that they be given winter uniforms and gear, and be treated "as people, not cattle."

The soldiers intend to achieve the dismissal by the president of the unit commanders who have permitted this state of affairs.

Before leaving the grounds of the base, the soldiers locked their commanders up in their utility rooms.

The officers, having broken out, tried to catch up with the troops and talk them out of marching to Kiev, but they were unsuccessful, says the source.
The group have since arrived in Kiev and are protesting outside the presidential administration,
RFE/RL have a live feed from the scene: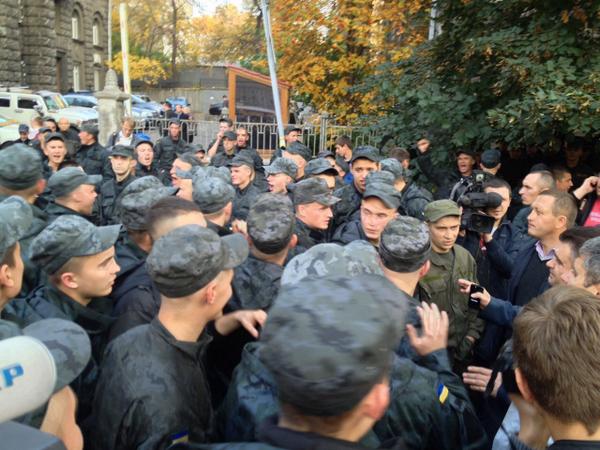 Ukrainska Pravda reports that the men are demanding demobilisation. The protest is reportedly peaceful with no confrontations between the guardsmen and the assembled police.
They report (translated by The Interpreter):
As the soldiers told Hromadske [TV], their service tour ended almost ended half a year ago, but they are still not allowed to go home. Meanwhile, they are only paid 154 hrynia a month overtime while they should be paid such an amount each day.

They insist that they are demanding not money, but discharge from service. From time to time they chant 'demob!' and also "one for all and all for one!" Some of them are dressed in body armour and carry batons.