Despite Further Refutations Even From Separatist Leaders, Mass Graves, 'Organ-Trafficking' Disinformation Still Circulates
7 years
It's a rare day that the Russian-backed separatists are more truthful than the Moscow propaganda outlets that fuel their information warfare, but that's the case in the affair of the false reports of "40" or even "400 bodies in mass graves" and "organ-trafficking" as we reported yesterday.
Separatist leaders themselves from the self-proclaimed "Donetsk People's Republic" have discounted a report sourced with Einars Graudins, a Latvian activist who has made a number of unsubstantiated allegations about Ukrainian atrocities, Svoboda, the Russian-language service of the US-funded Radio Free Europe/Radio Liberty reports.

Andrei Purgin, the vice premier of the so-called "Donetsk People's Republic" provided even more clarification yesterday to Interfax (translation by The Interpreter):


We were not understood correctly, and as a result the information was distorted. We were talking about the fact that 400 is the total number of unidentified bodies remaining in the Donetsk morgues. Ninety-percent of them are civilians who died at various times. Many of the bodies are disfigured and it is hard to make an identification. Therefore we appealed to Russian specialists with a request to conduct DNA analysis.

Earlier this week, Aleksandr Zakharchenko, the DPR's prime minister, explained that he, too, was "misunderstood" when Russian state media claimed that there were "40" victims in mass graves; he said he was referring to other graves with combatants who were missing intestines because of shrapnel wounds.
The OSCE Special Monitoring Mission found 9 bodies in three grave sites outside of Donetsk in Nizhnyaya Krynka, and made no claims about their status as forensic examination is outside their mandate.

The false statements made by Graudins were readily picked up by REN TV, Channel 1 and other pro-government media and have spread across pro-Russian forums and pro-Kremlin Western web sites as well.

While they've been refuted by the separatist leaders themselves, the false report that there are "hundreds of bodies in mass graves" live on in Russian-language RIA-Novosti in a report today October 3 and have been cited even by Foreign Minister Sergei Lavrov, who should know better.
The "400" and the "organ-trafficking" stories have been flogged hard by a  new English-language pro-Kremlin propaganda outlet called Russian Insider


Set your watches for when the fake "organs-trafficking" story will appear on infowars.com -- as it did back in July -- and Daily Kos, which routinely reprints Moscow disinformation.

The issue of the mass graves has also been raised by AP's Matt Lee at the State Department noon press briefing, and received this reply from State Department spokesperson Jen Psaki:



Well, we are confident that the Ukrainian Government will continue to investigate these claims in conjunction with international experts, as they did when at least eight bodies were discovered in Slovyansk after the town was liberated from separatist control earlier this summer. The issue remains what we talked about yesterday: They don't have access to this area because it's separatist controlled, so they can't get in to do an investigation partnered with international experts.

QUESTION: You don't – it's not your understanding that the OSCE monitors have already been there?

MS. PSAKI: They were alerted – OSCE monitors were alerted in late September to the location of unmarked graves, but this would be – any investigation would be under the authority of the Ukrainian Government.


There's still a mystery as to how Graudins attached himself to a group of human rights activists who accompanied the OSCE Special Monitoring Mission -- which disavowed him.




Svoboda published a picture of Graudins with a DPR fighter (second from right).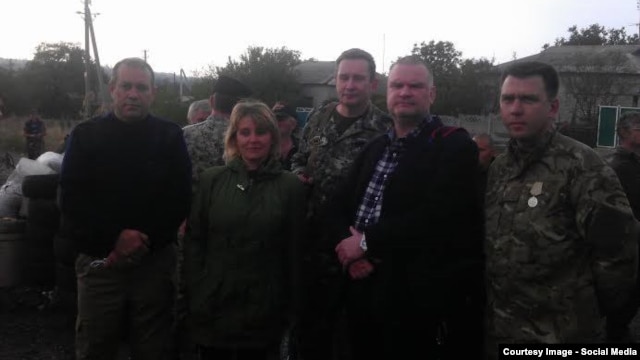 Natasha Rayakovich from the OSCE press office told Svoboda that currently the mission is attempting to clarify where he came from.

Svoboda reports that Graudins is a member of the Congress of Non-Citizens of Latvia, the leftist anti-globalist party Demokrati.lv and is running in elections this week in Latvia from the Russian Union of Latvia. He served in the USSR armed forces and Latvia's reconnaissance paratrooper units as a senior officer of the defense ministry.